David Choe 2 – 9/24/07
David Choe pt. 2 – at Wieden Kennedy
Wieden Kennedy is one of the largest-independently owned advertising agencies in the world. Founded in Portland, they're best known for their advert campaigns for Nike (i.e. they came up the tagline "Just Do It"). With offices in Shanghai, Tokyo, New York, London, Amsterdam, it's one of those things that at one point I was asking about internship for W+K. In 2003, their Tokyo office created W+K Tokyolab, a record label/creative workshop. HIFANA is signed with them (and had a show in Portland 1.5 years ago). I hope HIFANA will come back soon…
Anyways, sorry for the tangent on tangent… David and Saber at Wieden+Kennedy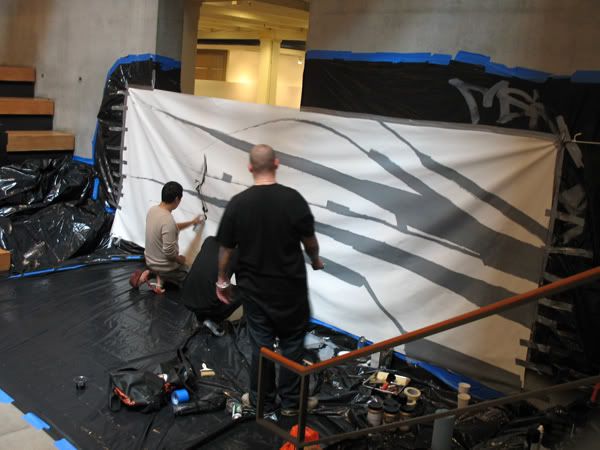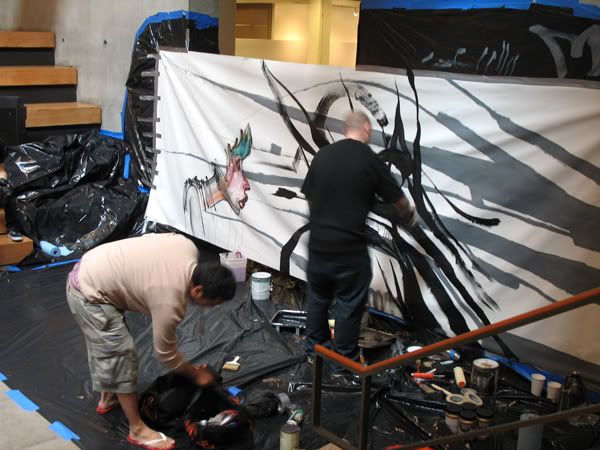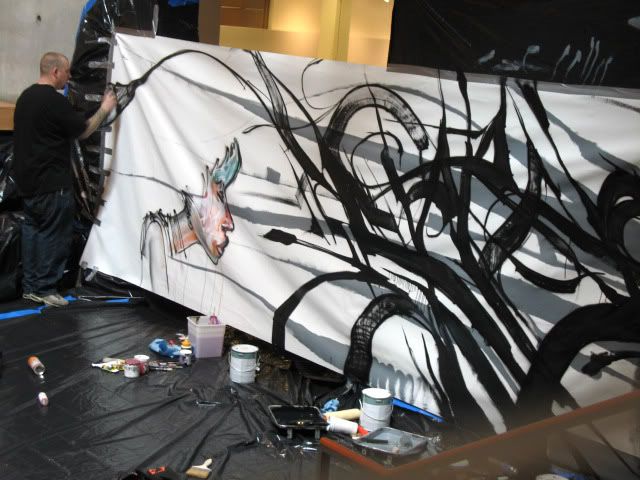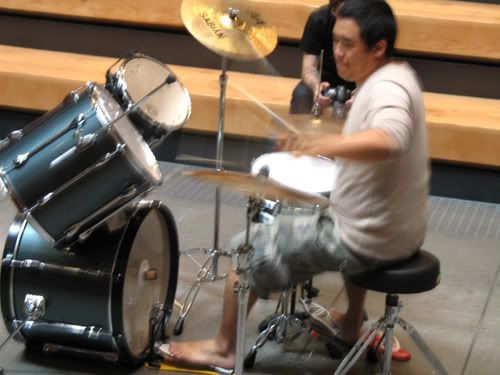 ‹x‰ï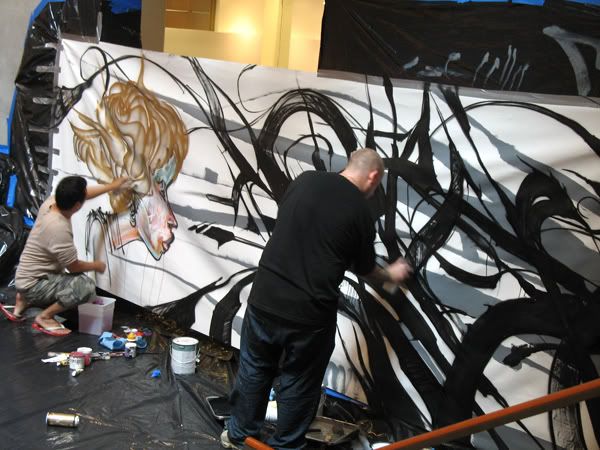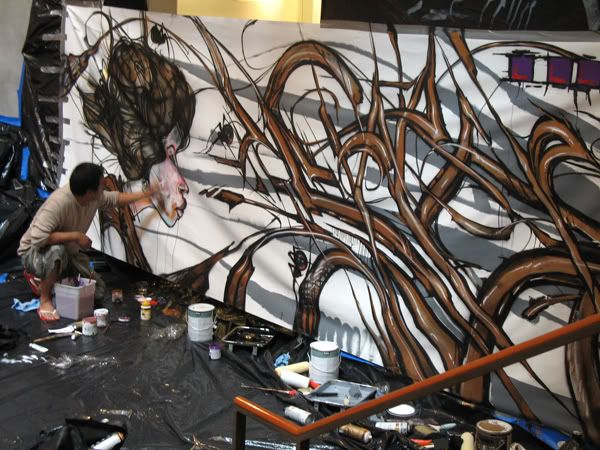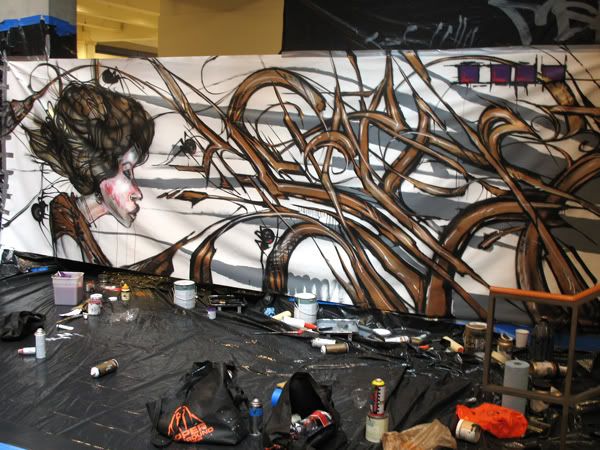 Done. And success, they both got a deal with W+K.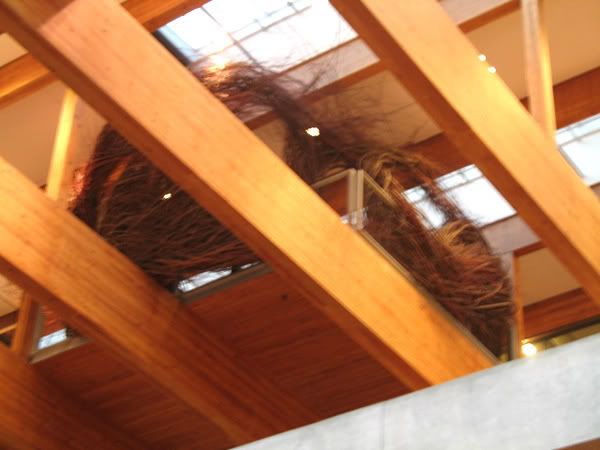 The bird nest lounge on top. The couches up there are shaped as white, riverbed rocks.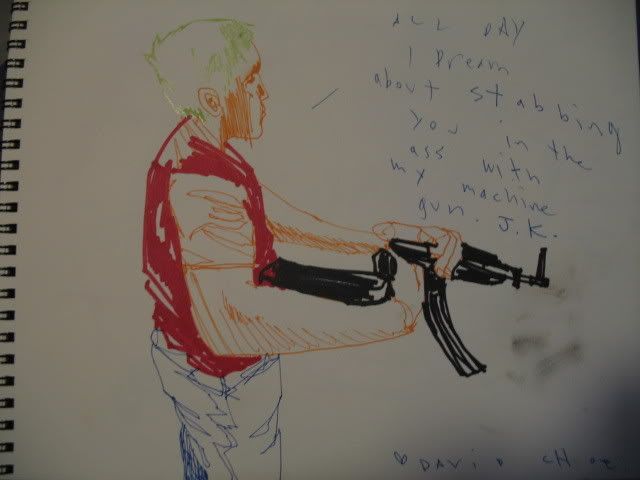 ƒf[ƒu'ªŠG'ð•`'¢'Ä'­'ê'Ü'µ'½B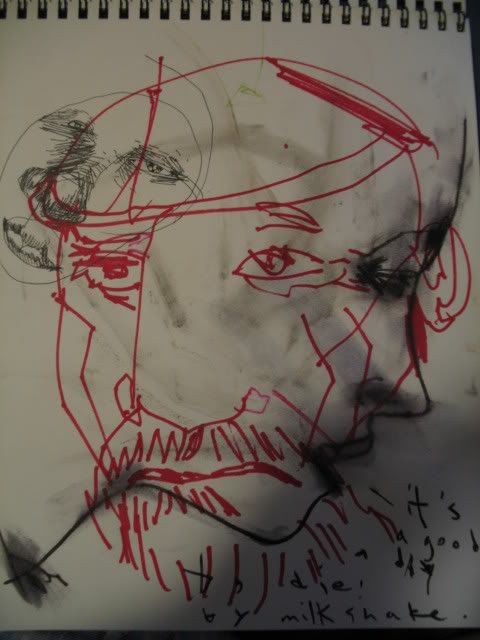 This was the last drawing he made in my sketchbook. And will be the last ever, even though there are 20 pages left in there… Dave Choe hocked a loogie in my sketchbook and I had to watch it get smeared all over while he was shading.
This is the guy, that to find colors during solitary confinement in Japan, he saved morning urine (when it has the deepest color) so he could add yellow to his drawings. As a health person, I wouldn't like to go near that book. But the art-side of me knew better, he would do that sorta thing so I'm not surprised.
I asked him to use my favorite pen that creates fine, clean lines (mitsubishi UMR-1 if curious). He agreed and at the first stroke, "Woah, it's just like a pencil. This is really nice!"
"Yea, take it. I have a lot more at home and knew you would like it."
"Really? Thanks! I was gonna steal it you know."< smiles>
"Yea, I know."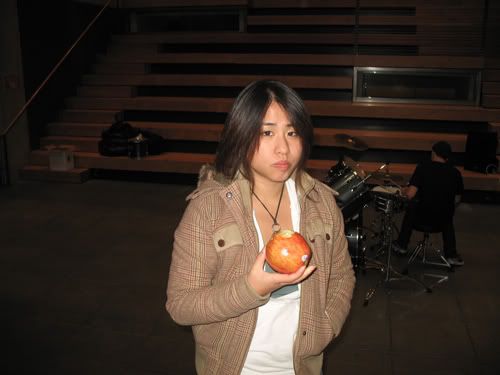 2ŽžŠÔ'µ'©Q'ăwƒAƒJƒbƒg'ª•K—v
I haven't slept at all… I look homely…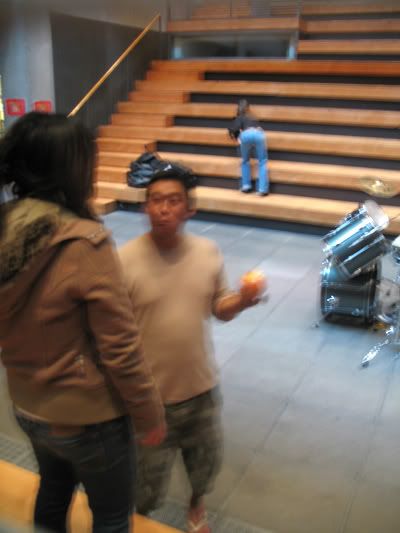 'è'ñ'²•Ô'µ'Ä…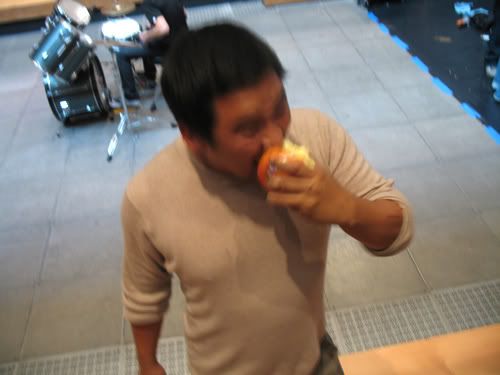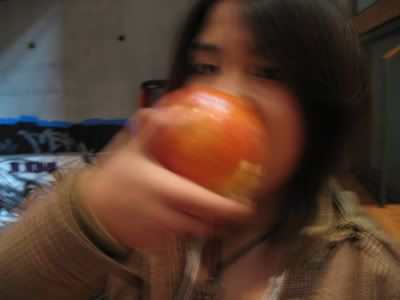 After the show we hung out in the Nike room at Wieden Kennedy. Dave talked about his trips to the Congo, hiking in Arctic Circle and how his friends wussed out.
"Why, what's waiting for you at home? Your girlfriend is there today and she'll be there tomorrow. < mock friends> 'But David, people die on these trips!' Then let's just do it and die later, might as well die now anyways."
David, being in-your-face, either a lot of people like him or hate him. He is full-on ADD and never know what's going on with that guy, but being homeless, hitchhiking, jumping trains and traveling the world spreading his art – is intriguing because a part of me wanted to do that, and did.
Somewhere along the drawing/conversation/hacking loogies Dave decided to add Kevin and my phone numbers to his cell before he forgets. I don't know if it was another ADD moment or he's planning to hit us up next time he's in town, but he treated Kevin and I to dinner at Montage. He wouldn't let us pay, or let me pay back even ("Don't worry, we're rich!") but at least I got him and Saber Moonstruck chocolates to show my appreciation, because it was a weird past 2 days, and tomorrow is pirate festival day. We're gonna be pirates! Yay, more pictures…